It was about a year ago that I chatted to Jaime about the idea for this blog.  I remember it vividly… we were out in the yard and she was picking up her son after he had come over for a play date (we do a lot of play dates around here!).  The boys were going crazy on the trampoline and as always us moms were nattering away (that's English speak for chatting) then she mentioned that she was about to begin a big renovation on her basement.  I briefly mentioned to her the idea for this blog and she instantly jumped on board.  Seriously this girl has a gift for encouraging!  It still took me a year to actually put my idea into action, but you better believe that she was one of the first people I called to say "hey it's happening!"
The Russo's are still working on final touches for their basement renovation but they also redid their family room too so I thought we would go ahead and show that first.  To me the most amazing renovations are when people make the best use of the space available to them.  Whether that involves, removing walls or working within the existing floor plan one thing is for certain, what you put into the room, and colors used, can transform any room.
The Russo's worked with Kelly Bressler with Resource Design & Build to help them make the space work.  Kelly shared that the great room at the Russo home was a lovely bright and airy addition that the previous owners had constructed.  However the furniture was not to scale and the overall tone of the space was a muted gold and brown that no longer worked with their vision for the interior. Here is what the room looked like before the renovation:
Kelly said that the biggest challenge was the huge area that they had to fill with large enough furniture while still maintaining a cozy space for the family to relax and entertain.  Take a look at what they came up with: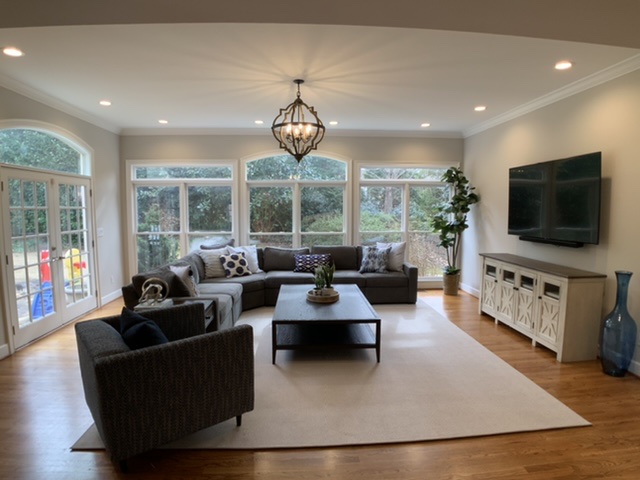 They selected an oversized medium grey sectional sofa and a fun deep accent chair to pop some cobalt blue into the newly painted space.  A huge coffee table and a custom bound rug anchor the room, while a long media console fills the large wall under the television set.   Cobalt and cream became their accent colors by adding accessories and fun pillows, while a fun overhead chandelier adds just a touch of rustic warmth with wood and iron.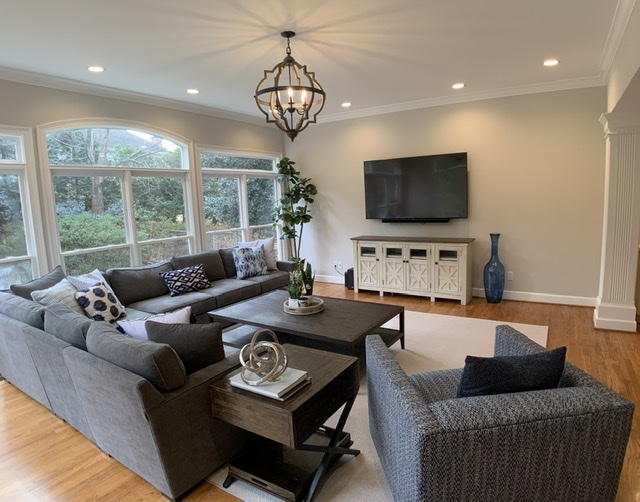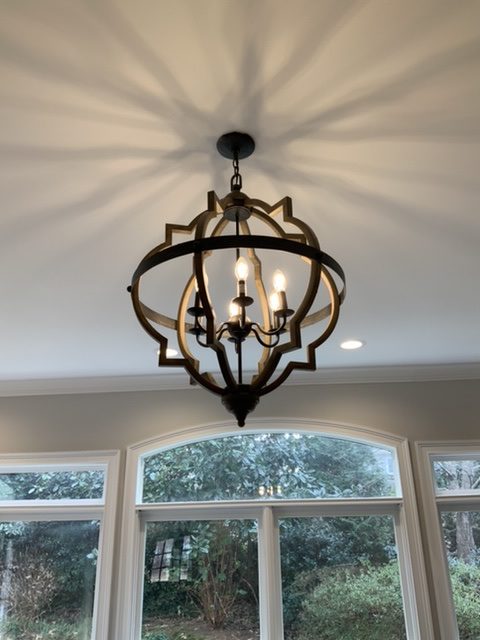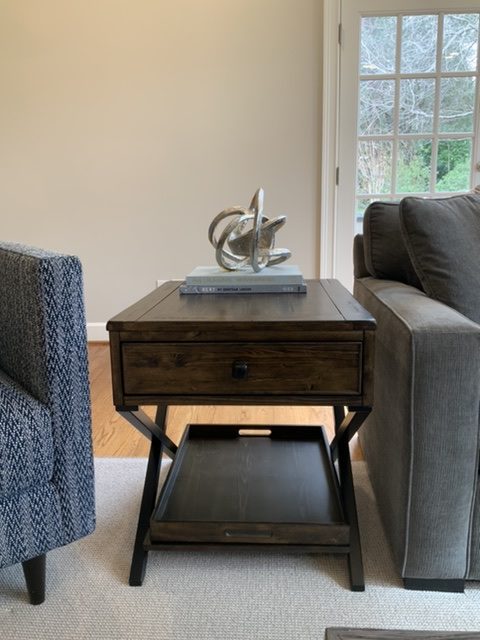 Kelly Bressler is the owner and designed at Resource Design & Build which is a full service boutique renovation company dedicated to unique design, exemplary customer service and quality project coordination. They love to build your dream! Click here to see Kelly's contact information in the directory.