Have you ever walked into someone's house and thought "this is like something out of a magazine," and then head home to dream of how you might make yours look similarly breathtaking? The first time that happened to me here in Dunwoody was with the Libby's house.  I went in for a play date for our boys and left wanting to knock down walls, add new fixtures and basically redo our whole kitchen.  Needless to say I promptly decided that living vicariously through her would have to suffice.
The Libby's house feels like you are walking into an HGTV recently renovated home.  Thankfully our awesome 3 year olds were happily entertained while we held our littles and talked all things house and home.  Casey casually shared about the work they had done and dropped in that she had designed every inch of her kitchen from start to finish. I mean, way to make a first impression!  Some people just have an eye for these things and Casey sure is one of those gals. She and her husband Tim have done a lot of the work on their home themselves and Casey now works as an interior designer.
Here are the before photos of their kitchen:  
And now take a look at what it looks like after their hard work and notice Casey's eye for detail and practicality within the beauty: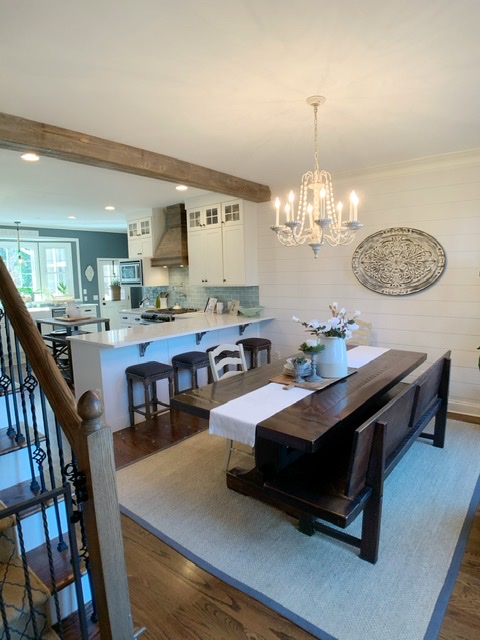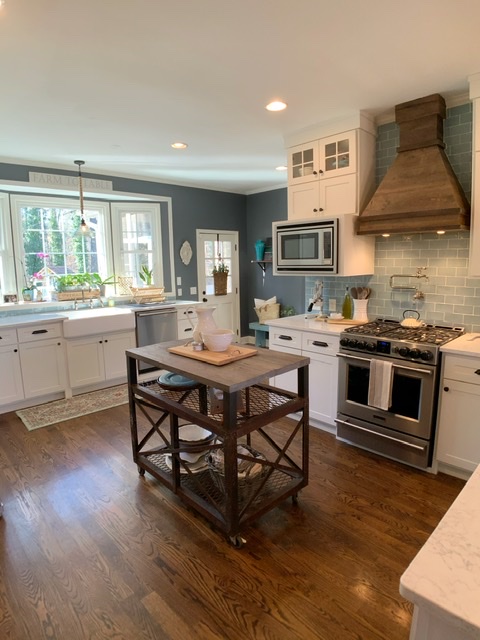 The Libby's added so much space to their kitchen with this renovation.  Their ultimate goal was for it to feel more open with a modern farmhouse feel.  The blending of metal and wood achieved Casey's  combined vintage and modern/industrial look.  They commented that they really wanted to pick out exactly how they wanted it so they hand selected the wood for the beam and the hood so that it would give the room a cohesive feel.  Personally, the wood and the kitchen sink are my two fave features – I think I would actually want to do the dishes facing a bay window like theirs!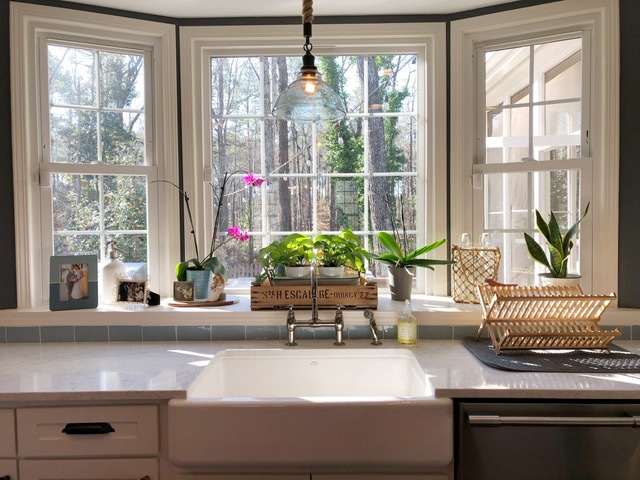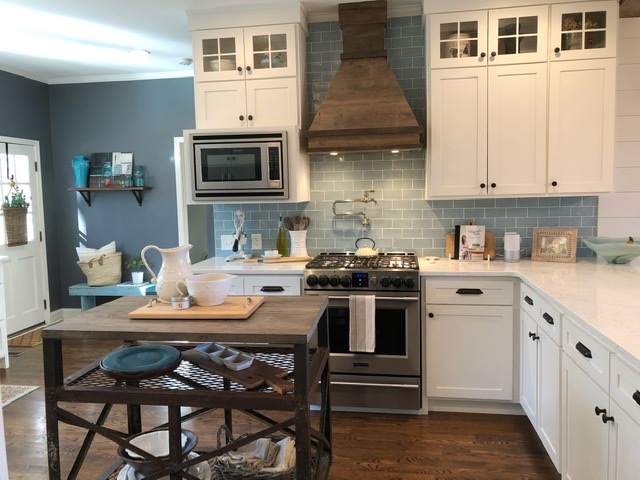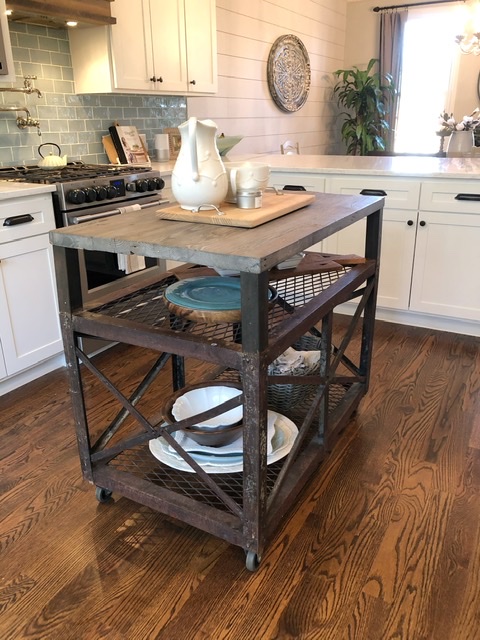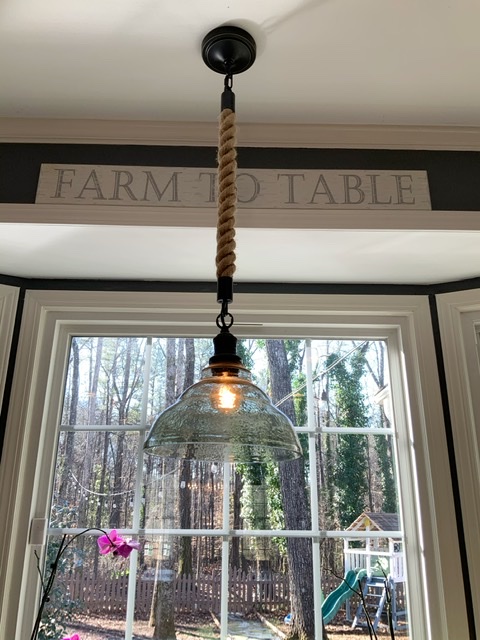 I asked Casey what her must-haves were when she started planning her kitchen and she said, her pot filler (a splurge!) and the large peninsular in order to spread out everything.  As with most families, she added that the kitchen is the new living room.  It is where they spend most of their time whether with kids, or entertaining guests, so it needs to be spacious and a place that you want to be.  The Libby's biggest challenge in bringing it to life was towards the end and completing the punch list.  As contractors take on other projects it is hard to get the final bits and pieces completed.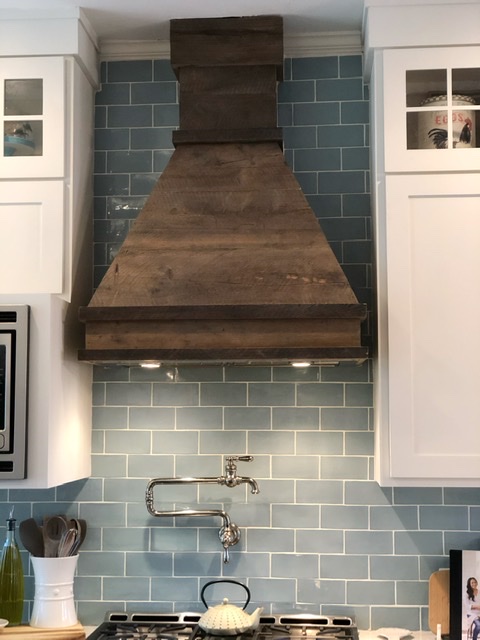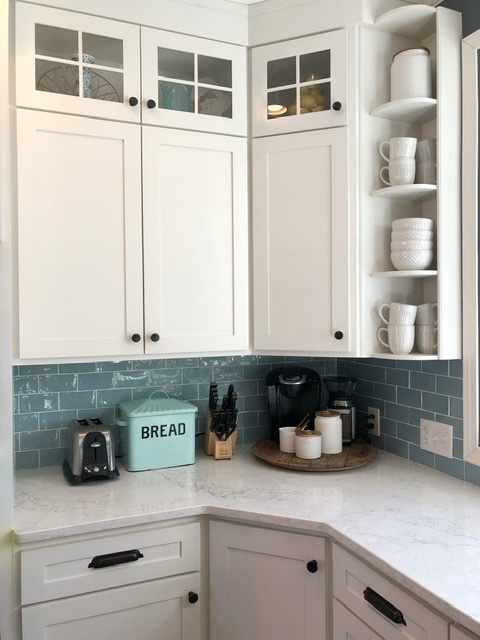 Casey's advice to anyone doing a renovation is: don't live in the house while completing the renovation if you can help it.  You have to make a million decisions during the process, so just remember that you can't make that many decisions and have them all be perfect.  It's ok to make mistakes!
Casey believes that with the right planning and coordinating everyone can have a beautiful and unique home without breaking the bank.  She considers her personal style to be modern farmhouse, but truly appreciates all designs.  She loves to transform spaces into beautiful, cozy areas that make you feel like you're home.  It is rewarding for her to freshen up older spaces, and she enjoys shopping for pieces to fill a home whether they be vintage or modern. For Casey's contact information click here to view the directory.