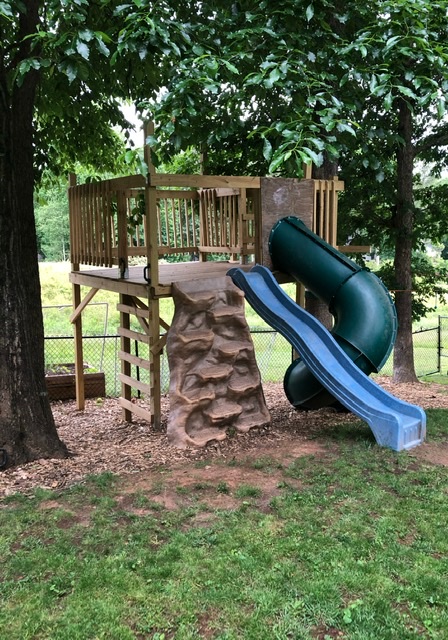 If you are anything like us, quarantine has been filled with highs, lows and many, many projects.  We have never been more thankful for our yard and seem to have spent more time out there than we ever have which is what inspired me to do a post about the outdoors.  Nothing fancy, just people who are in the same boat both here in the US and in other parts of the world taking advantage of being outside.  What was awesome about writing this was that I had people from different times in my life get back in touch with things they have been doing, from here in Atlanta, to Chile and to England.  It has been fun reconnecting with old friends through a pandemic.  I'm counting it as one of the blessings of this time shut away.  So, this post is different from the usual, but hopefully one that will inspire you to get outdoors and have fun in the space that you have.
We pretty much always have a project going on around here – last year it was a tree house and swings that Steven decided to design and build, and they truly have been a life saver during our lockdown.  He designed it and then found people who were getting rid of their playsets and got the swings, slides, rock wall and tire swing for a very small amount.  It worked out so well and now even our two year old can make it up to the top and loves it! Our kids have spent hours upon hours out there playing!  The random bit of what looks like graffiti above the green slide is spray chalk which apparently doesn't wash off quite as easily as one might think!  The swings were set up by attaching a beam between two trees and each of the children has their own swing to play on.  Take a look!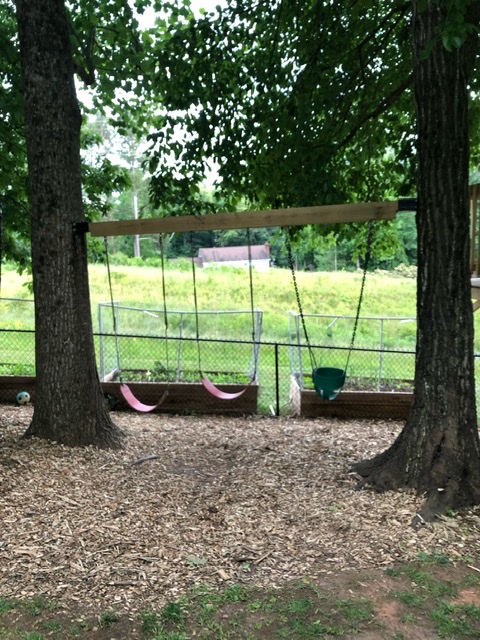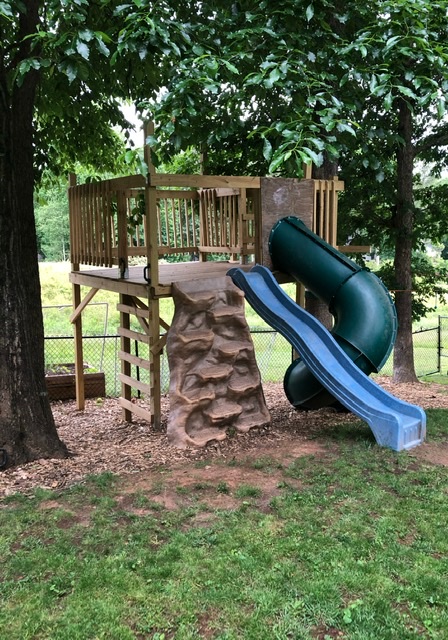 Here is how it looks side by side: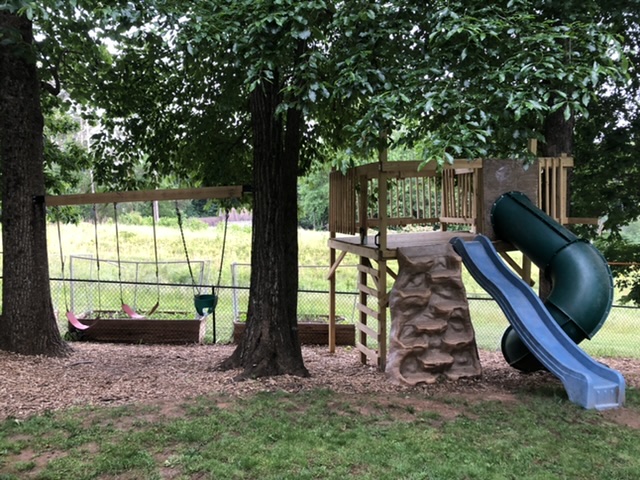 This spring our big projects were these raised garden beds and compost containers.  It is the first season that the chipmunks haven't eaten our strawberries thanks to the crazy protection Steven put around them.  We are learning though that 3 strawberry plants are nowhere near enough for our family, but the kids enjoy picking one or two each day!
The raised garden beds are surrounded with chicken wire and netting to protect all the vegetables from being eaten by the deer.  As anyone around us knows, we get a lot of deer around here – one time we saw 13 in our yard at one time!  The netting has been placed in individual panels which can be removed for easy gardening access.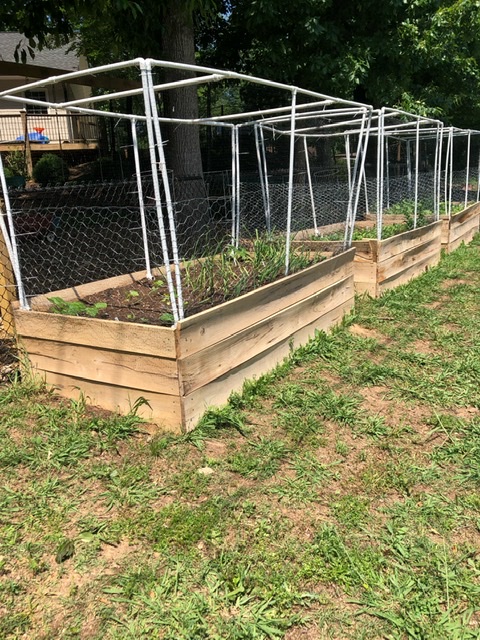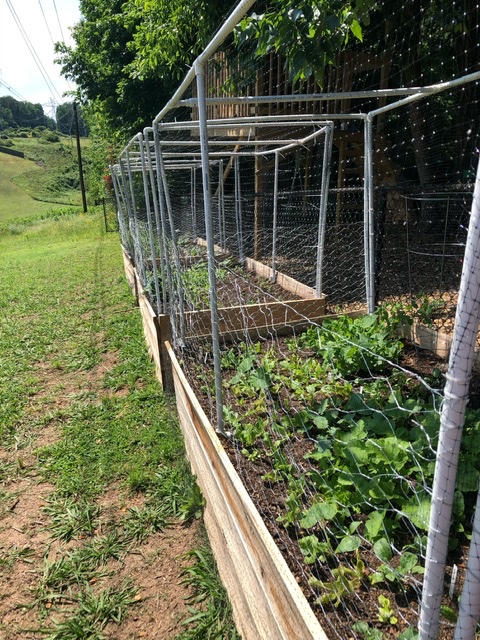 When we made the beds we used all our own compost which had previously been an ugly heap at the side of the house.  So project number two was to create containers for the compost.  One for the finished process, on the left, and one for the compost currently being made, on the right.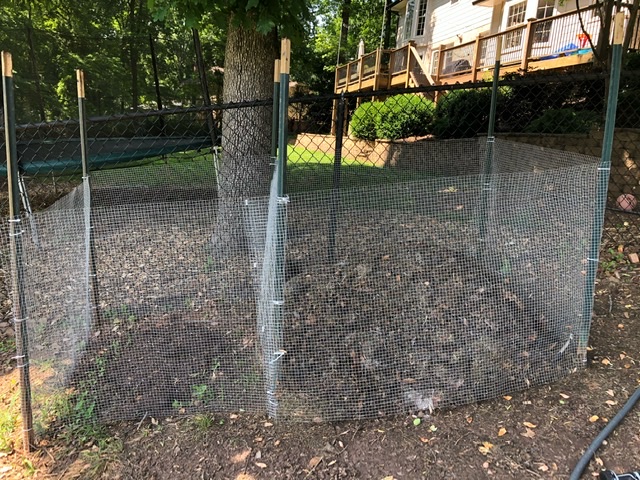 So that's what's new chez Simms, but take a look at all these fun photos of other favorite outdoor spots from our readers.  Hopefully this will inspire you to enjoy your own space even more!  Bonfires have been a big hit around our house and other friends have sent me pictures of theirs too.  I love that no fire pit is the same as another.  Whether they are bought, or made by hand, they are always fun with some yummy s'mores and the joy on the sweet kiddos in the first picture shows what fun they can be.  The second one was made out of a beverage tub and a grate from a grill – genius!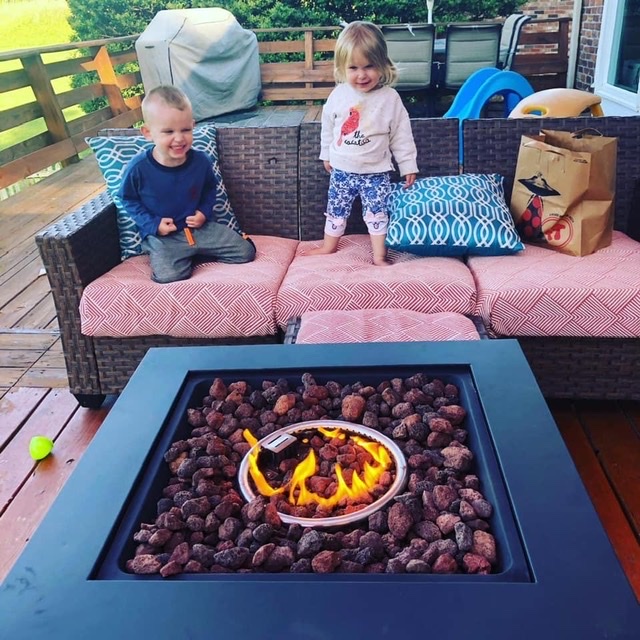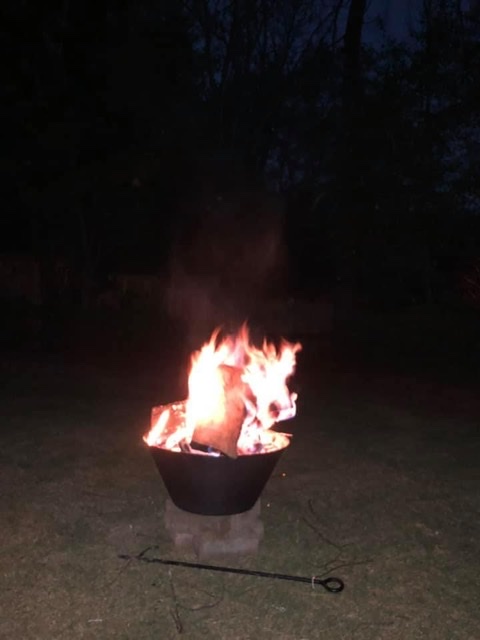 Here are some other beautiful gardening jobs readers have sent in.  The tee-pee gardens are fun for children to play in once the plants grow up, kind of like an outdoor fort! It's so nice to have the time to spend working in the yard and involving kids is so much fun too!  I love the photo from a dear friend in Chile below, of her daughter helping them water the plants!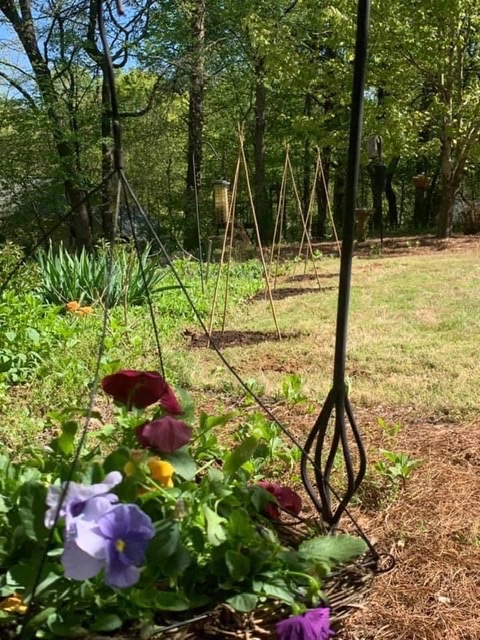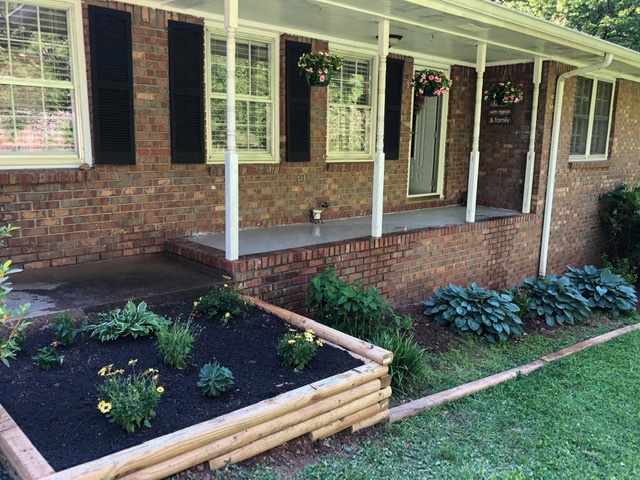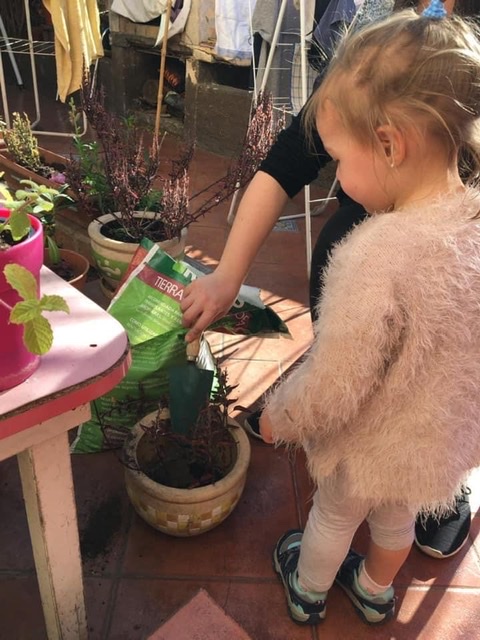 How relaxing does this next photo look?  This may need to be added to my list of fun things for our yard.  It looks so peaceful!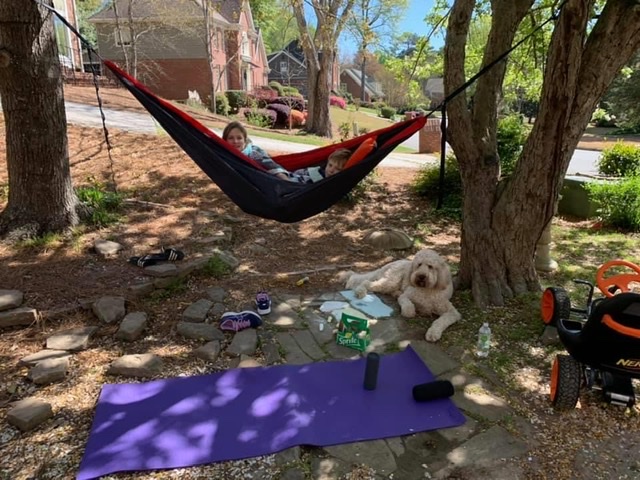 And if you can't leave your house then where better to camp than in your back yard!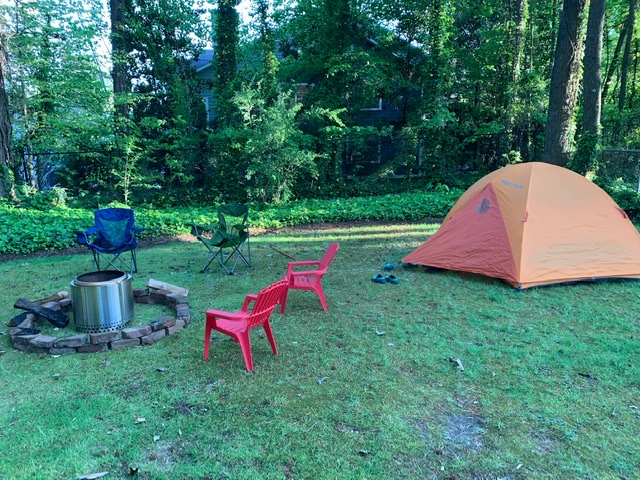 My personal favorite was my brother and sister-in-law in England who put a slack line in their yard and have mastered walking the tightrope can even hold a glass of champagne while doing it!  Things to aspire to!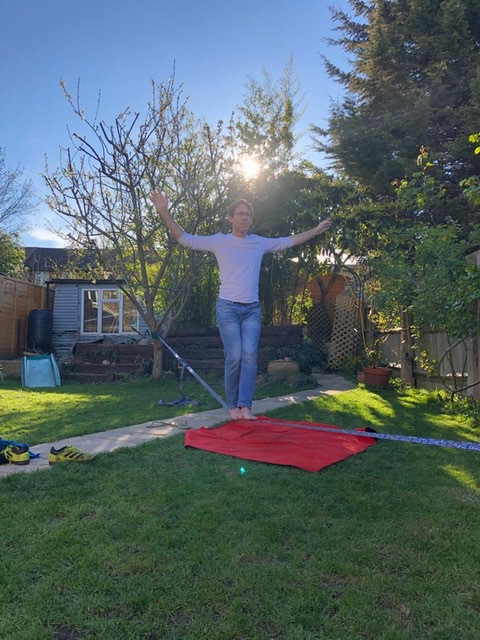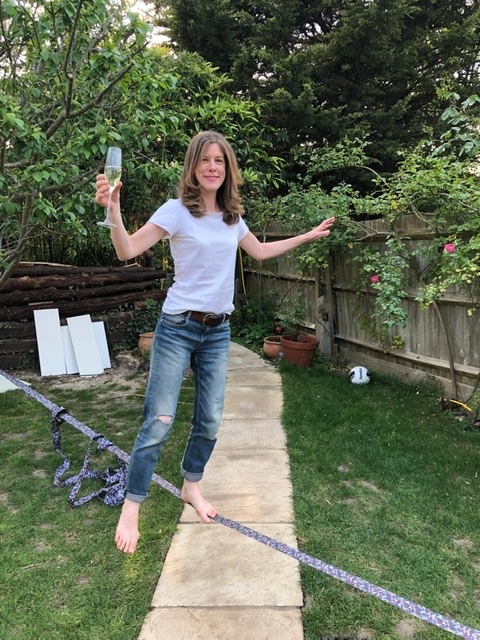 A friend in England sent me this photo of the cutest little Wendy House (English for play house) and her three children going on a Bear Hunt!  Cute!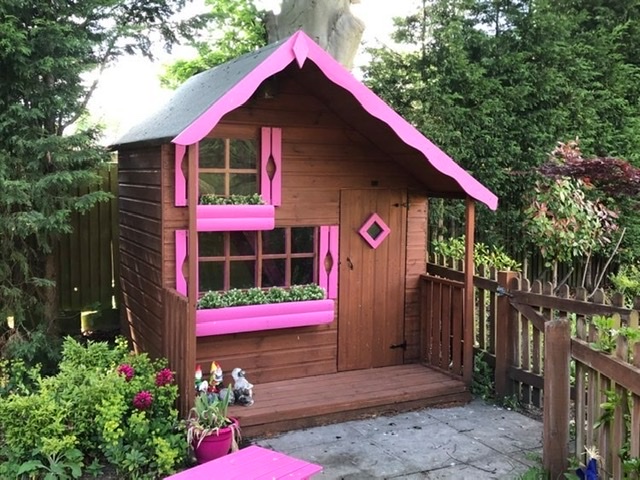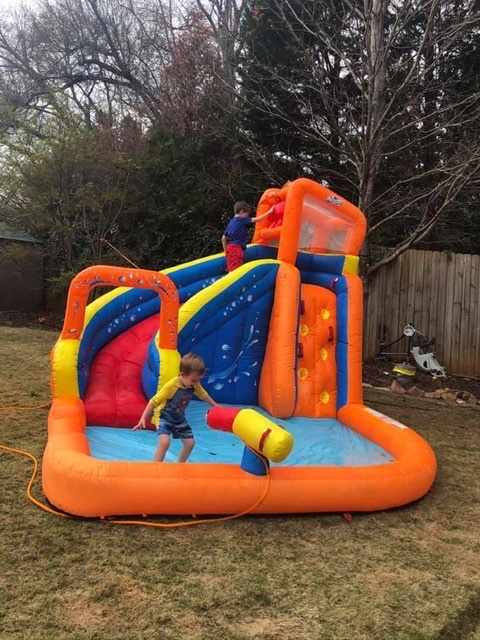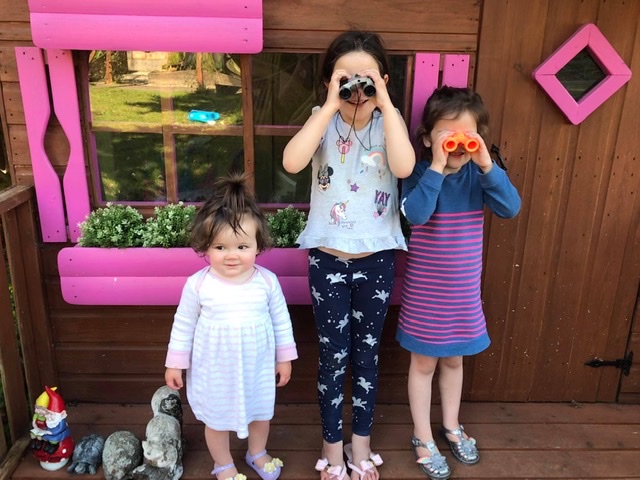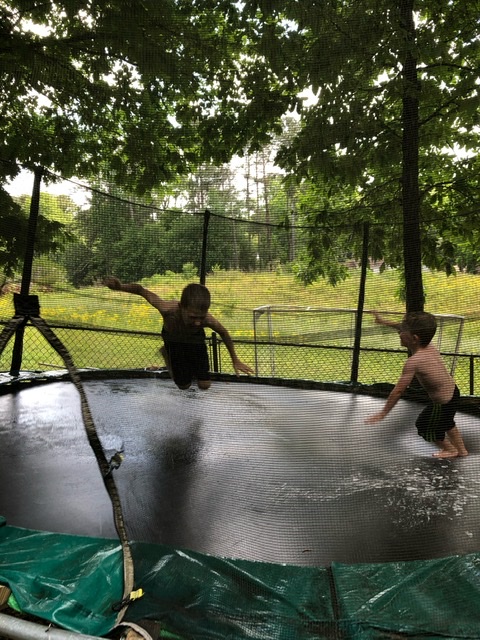 The above photos show little boy fun at its max!  The first is of some dear friends here in Atlanta and the second is of our crazy boys on the trampoline with dish soap and the sprinkler… I blame their dad for that health hazard!
Another one that I loved was this bluebird box.  A friend was sharing that they put one up each year and the blue bird lays an egg a day, each day for 4-5 days; then they hatch, one a day each day 12-14 days later.  How amazing to be able to watch this in your yard!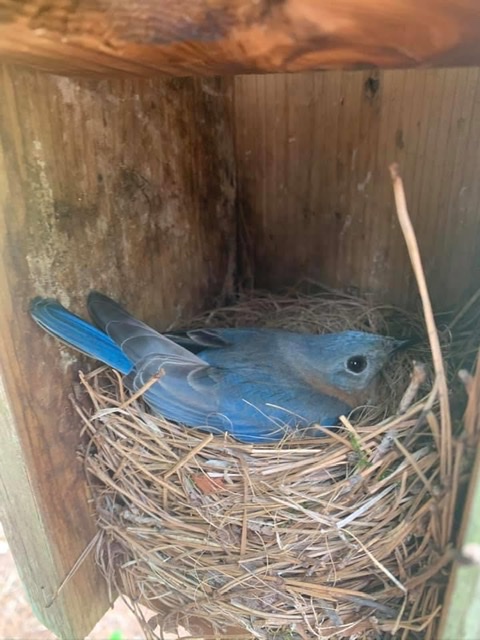 If in doubt though, let's be honest, a good cardboard box can be more fun than anything we put out for our children.  A friend from England sent me the first picture, the same day as my kids were playing in one (second picture)!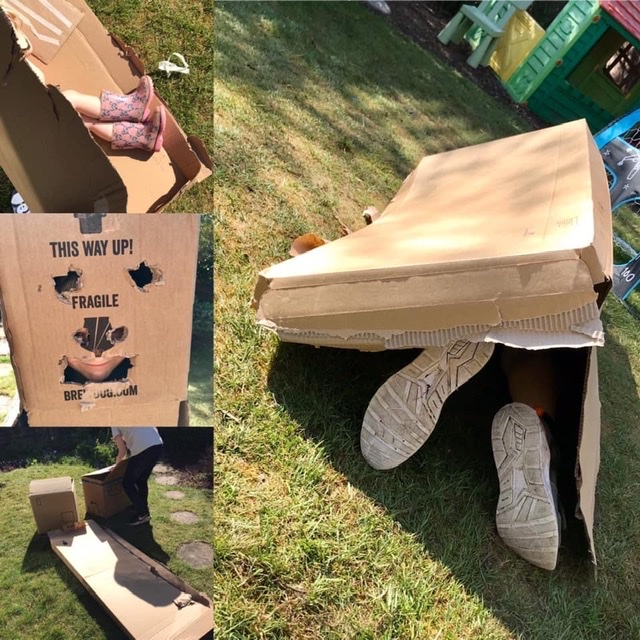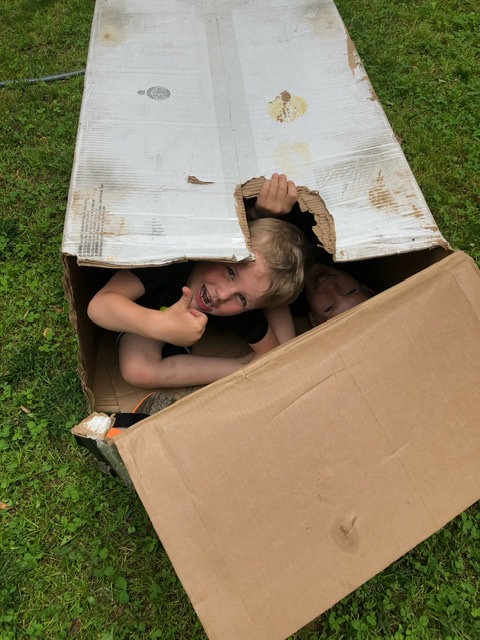 We received loads of fun activities that people are doing with their children too but unfortunately there just isn't room but thank you all for sending your fun ideas, we loved them!  So, while this was far from my normal post it is probably one of my favorite ones thus far.  Folks, we are all in this together, near and far, all over the world and whether here, or in another country, we are trying to keep our children busy, keep our spirits high and get through this lock-down.  I hope this has served to brighten your day even if you never intend to play in a box!  Here are some cute chickens from another reader here in Atlanta to end our post!